Defibrillators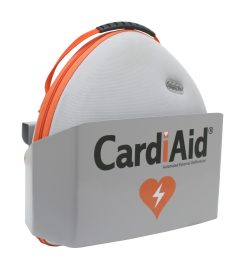 In the EU 1500 people die every day due to a Sudden Cardiac Arrest (SCA) – that's over half a million people each year! With an AED nearby you can increase the risk of survival after a Sudden Cardiac Arrest by up to 70%.
WHAT IS A SUDDEN CARDIAC ARREST?
When somebody has a SCA the heart is no longer able to pump blood around the body, SCA is usually caused by a chaotic fast heart rhythm called Ventricular Fibrillation (VF). The only way to bring the heart back to its normal rhythm is by giving an electric shock. Urgent assistance is crucial within the first minutes after SCA. 10 minutes after the onset of SCA the survival chance is only 10% - the response time of an ambulance is on average 10-15 minutes.
WHY USE AN AED?
An Automated External Defibrillator (AED) is a portable device that analyses the victims heart rhythm and will diagnose if an electric shock is necessary. During the resuscitation process the AED assists the care giver with both verbal and visual instructions; it provides assistance during heart massage and mouth to mouth resuscitation.
Point Consumables Europe is a Certified Distributor of Cardiaid products.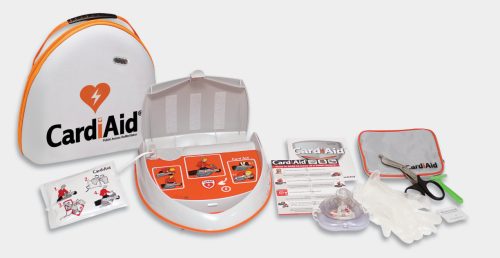 CardiAid AED, the best public access defibrillator, was specially designed to be simple, easy to use and quick to treat.
CardiAid AED can be used by any person with basic life support (CPR) knowledge.

Automatically turns on when cover is opened.
The pre-connected electrodes help save time and make the process simpler for the user.
CardiAid AED guides the user with clear verbal and visual instructions from the beginning to the end of the whole process, including instructions reminding the user to call the emergency number and assisting the user through the reanimation process.
The status indicator lights burn with universal colours: green and red, showing if there is any problem with the device, or not. This provides standardization.
Provides CPR assistance with metronomic signals for maximum efficiency.
CardiAid will automatically analyse the heart rhythm and decide whether shock is necessary or not.
CardiAid performs automatic self-test daily, monthly and when the cover of the device is opened. This function enables CardiAid to be in-use without a problem whenever needed.
Using CardiAid is completely safe for the patient and the user.
Automatically stores the event data and the ECG of the patient.
Special accessories provide safety, easy-use and the highest performance.